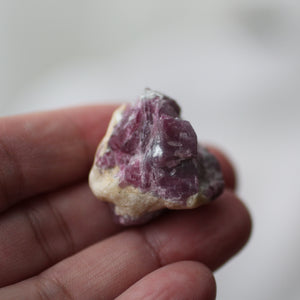 Invite in a personal totem stone for 2021
There is a sacred practice that I've adopted where I invite in a stone being as co-creator for projects that I am working on or to help me shift out of old unhealthy patterns and into greater well being. Just as you can call on a spirit animal, ancestor or angel to guide you, so too can you call on a Stone Being. I call these mystical beings, Soul Journey Stones. They can come forward to guide you with a specific creation, like finding a home or life partner, starting a new business or career, or help you heal your body, heart or mind. But you can also invite them in, like you would a friend, to walk with you through a period in time … like this next magical, powerful year. In other words, your year stone for 2021.
The birth of a Star
Last year a very special crystal came through to guide me. I was in the crystal room doing some work and something distracted me. A crystal was singing to me. I stopped what I was doing and followed the call. I found myself holding an Eye of Sheba Ruby crystal. I'm not exactly sure how I ended up with it in my hand, but it felt purposeful. I set it down beside me and continued working, knowing that when it was time, this crystal would let me know its reason for showing up when it did.
The next day I woke up from a powerful dream about a red and white stone. I didn't make the connection to the ruby until later when I was again drawn to picking up the stone. The power I was feeling from the ruby just then seemed familiar. It was the same feeling I had in the dream. As I was holding her in my hand, something in the Ruby caught my attention … a glow … a movement … a light … a star. A baby star. That's what I was hearing. This crystal has created the space for a star to be birthed. I wish I could adequately express the magic of this experience. Perhaps you can somehow feel some of this mystical energy through the picture.
From Rags to Riches
This is not the first time this regal stone was singing to me. Ruby once shared a profound teaching about going "from Rags to Riches" which I shared in an ebook on the Song of Stones website. I had not forgotten about the song but I had forgotten the words they shared. It's definitely not a coincidence that Ruby is singing to me again now as this subject of value and wealth is something I've been exploring.
Ruby was the first of a part of a group of crystals that came forward to show me how to materialize money. Not a very catchy name - I know. I wanted to call it "manifesting wealth" or "attracting abundance" or something with the word prosperity in it. The crystals were quite clear about using the word money and not trying to find a frilly name … and I have seen the wisdom in that. Now, after having revisited the Rags to Riches ebook, I remember that Ruby was adamant about using the word money then too.
Money Matters
As I look back at the year I realize the profound transformation I have undergone around money. These crystals taught me so much about my relationship with money and with myself. They have helped me to shift out of a cycle of stressing over one money matter after another, and to create new patterns of peacefulness and prosperity. I am going to be opening up that journey of Materializing Money with Crystals soon so that they can do the same for others who are stuck in a pattern where money flows out faster than it flows in and who have not yet fully realized their full and true value and worth to the Universe.
Your personal Year Stone
If you haven't done so already, I invite you to call in a personal Journey Stone for the year 2021. You can choose one or let one choose you. Be open to the one who comes forward. The greatest magic will often come from the most unlikely stone.
I have already been shown my year stone for 2021. I found her through a medicine dream. She sings of the energy of this coming year and I will share her message with you in an upcoming light log post. If you need a little help finding your 2021 crystal guide, feel free to get in touch. It's what I do.
However you choose to journey through your year, I send you ...
blessings of joy, inspiration, success, prosperity, well being, and above all … magic!