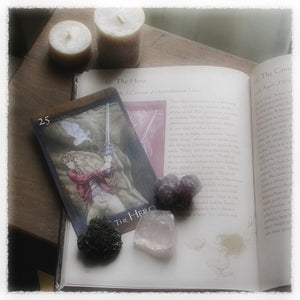 Your crystal has a message for you. I will listen to that message for you.
The Stone beings have been on our Earth since its beginnings. They are the record keepers of our planet ... crystalline libraries. Held in their memories are the stories of the ages. They offer their secrets freely to any who know how to access them.  They offer too, a gift more precious than any value placed on them as jewels. That gift is their song ... a personal message born of deep, abiding wisdom that reaches right to your very essence and transforms you from the inside out. This message is held for you within their crystalline forms, in sacred trust until you choose to receive it.
I will listen for a short personal message from the crystal you adopted. That message may come as an image, a single paragraph, sentence or maybe even just a word.  However it is given to me, is how I will give it to you. If it is an "image", I will describe it). If you're wanting a deeper, fuller message, you may choose a personal "Stone Song".
PLEASE NOTE:  THIS OPTION IS ONLY AVAILABLE IF YOU HAVE CHOSEN TO TAKE HOME A CRYSTAL OR STONE.
IF YOU'RE ORDERING MORE THAN ONE CRYSTAL, PLEASE INCLUDE A NOTE LETTING ME KNOW WHICH ONE YOU WANT YOUR MESSAGE FROM. Otherwise, I will listen to the one who is singing most insistently. 
PLEASE ALLOW US EXTRA TIME IN GETTING YOUR ORDER OUT TO YOU WHEN YOU CHOOSE THIS OPTION.  Crystals with a mini message will usually ship within 2 to 5 business days of receipt, but may take longer depending on how many other orders are ahead of yours. Thank you for your patience.