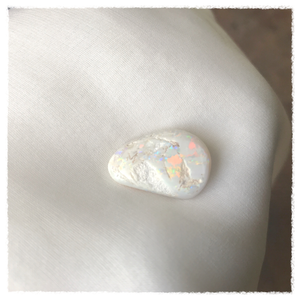 PLAY OF COLOUR … Opal's mysteries
I had been ready to list some beautiful Mexican Opals with wondrous fire.  There were 3 separate listings and they were all ready. The pictures were downloaded. The description was written. So what was the problem. Why was I not making them available. I realized the answer last night.
I was working on the Opal listings when I saw a car pull up into the driveway.  My daughter was home so I went down to the door to be ready to open it for her so she wouldn't be standing in the cold for longer than necessary. I waited and waited and she didn't come to the door.
Rainbow Flashes
I looked through the peephole and my gaze was drawn to the headlights of the car. The lights were flashing rainbow colours and I was thinking how pretty they were and how much like the Opals they were. But then I thought…wait a minute…I don't normally see these flashes of rainbow colours emanating from car lights…why now.
I gave up waiting at the door and came upstairs to the living room window and looked outside to see the lights from a different perspective. The headlights were not emanating flashing colours from this point of view.
Size does matter!
I realized something in this seemingly mundane experience of opening the door for my daughter. I got an insight into the reason for the flash of colour in Fire Opal. I realized that in this case, size does matter. It's funny because I'd been pondering why Fire Opals are only available in very small sizes. Nature does not offer her in large portions.
When I gazed at the headlights through the peephole, they appeared smaller than when I looked at them through the window. I began to wonder if it was this concentrated view that allowed me to see these flashing colours. It's not that they were not there when I looked through the window. I was just not seeing them. Somehow this focused view, allowed me to see something that I normally would not be able to see. In this case, smaller was better.
Exactly why the concentrated view allowed me to see these beautiful rainbow colours, I was not sure. As I am unsure of the reason we can see these colors in the Opal, though I do imagine that the high concentration of water in the Opal stones is significant.
Beyond the Science
Of course there is a scientific explanation as to why there is this play of colour and I'm sure that there is a scientific explanation for why I was seeing the colors in the headlights when I looked through the peephole…but there is always more to see and understand. 
We can always go deeper. I don't know that the point is to find a conclusive answer. I think that the point is the wonder itself…the play with thoughts and ideas just as the Opals play with colour. I think that is part of Opal's song and it's charm…its play…TO PLAY! It flashes ridiculously beautiful rainbow colours from seemingly nowhere and dares us to do the same.
Opal invites us to come play with colour!
Originally published February 11, 2011