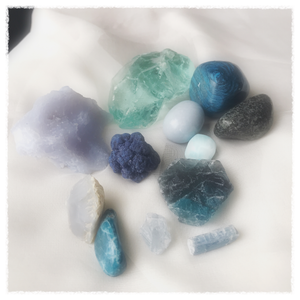 Crystalize your Power Series
Colour brings beauty into our lives through things like art, jewels and fashion. It evokes feelings—like the wonder and awe of a sunset or the calm of a green meadow. It even imparts information as we can often recognize something by its colour long before we identify it by the details of its form. But Colour can also be used for healing and for empowerment.
How do we tap into colour to crystalize our power?
Colour is not often thought of as a healing tool, but it is one of the most transformational energies I've yet encountered. In fact one of my first experiences with energy healing was with colour. So subtle. So simple. So abundant and universal. Yet so profound. It is especially powerful when you connect to colour through crystals. Many of the most beautiful colour shades are found in crystals.
We will look at many colours over the course of this year of crystalizing our power, but today we are going to tune into the blue ray. This is such a perfect tone to tune into at this time because blue is such an expansive and abundant colour. It is the colour of the sky. It is the colour of water. It is associated with heaven. After going through a time of seclusion and confinement, blue can bring comfort and relief. It can ease our loneliness during long periods of isolation.
3 ways to bring in the Blue
One of the beautiful things about creating with colour is the ease with which we can connect with it. Mostly it's about awareness and intention. But a physical representation of colour can help us to draw the essence of the colour into our bodies.
Just drinking water can connect us with the blue ray. Or we can co-create a healing colour elixir with something blue. I will sometimes use colour silks when making essences, but I find blue crystals the most beautifully transformative.
We can bring blue into our bodies through foods like berries. There are not a lot of natural blue foods so if you can't find anything blue to eat, you can infuse your food with blue energetically or wash your food with a homemade healing blue essence.
You can bring in blue through clothing and jewels or you can get creative with it, literally. Draw with it. Paint with it. Collage with it. Make a mandala of many shades of it. Write or journal with it.
Blue Crystals
Of course my favourite way to bring in colour is through crystals. You won't find more natural varieties of colour than in crystals
Blue happens to be the colour of the Song of Stones crystal of the year—blue dragon crystals. These powerful stone beings sing of truth. They have been showing us how we've been fooling ourselves and helping us to open our eyes to what is real and what needs to be seen. They bring an awakening.
Sometimes when tuning into truth, we need a little help seeing with more clarity. If that's the case, we can call in Sapphire. Ancient Egyptian physicians used sapphires to heal the eyes. We can tap into this crystal's affinity with physical vision to help us with our psychic vision. Looking at a crystal's physical properties can often help us to see into its metaphysical gifts. This regal stone can also help us to connect to our inner Royal as well as to the energy of prosperity.
Kyanite is another stone that has been singing. It is one of my first stone loves. Even saying the name feels magical to me. Kyanite is a stone of creativity. It is little wonder that it is coming forward at this time when our world is transitioning into an age of innovation and powerful creative expression.
Kyanite whispered to me:
"In the watery blue depths lies a secret.
It is the creative force within you waiting to be discovered.
It is different for each of us,
but it is there and it sparkles."

There are many blue crystals and stones to reach for if you want to connect to this expansive ray. Find the shade that you are most drawn to and that will be the tone that will most benefit you.