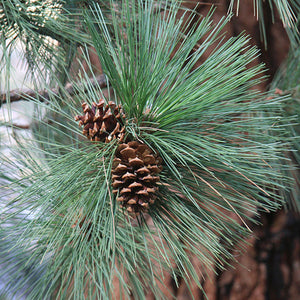 5ml. Ponderosa Pine Essential Oil (in Miron Glass Bottle when available)
The trees have been singing so powerfully to me.  They are here to support us in so many ways.  One of those ways is through the liquid of their life essence - through Essential Oils.  Their gift to us goes beyond the beauty of their scent and the richness of their body.  They can raise us up higher than the uppermost tip of the tallest of their collective.  They can offer us the wisdom that has been held in their hearts for eons before we ever came to this world.  They can reveal to us an inner strength we would never have imagined that we possessed.  They can teach us how to stay rooted through the fiercest of storms.  They who are the breath of this planet can show us how to breathe so deeply and so fully, with clarity and ease.  They do all that and more and they do so with grace and harmony and with a pure openness and acceptance.  These are the gifts of the trees.
This Ponderosa Pine Essential Oils (Pinus Ponderosa) comes from the wilderness area of southern Utah and is steam distilled.  Traditional uses for ponderosa pine include a wide range of skin treatments, including antiseptic washes for cuts, wounds, and burns.  It will also relieve many rashes and degenerative skin conditions.  It carries vermifuge properties, effective against digestive system worms especially.  It is also a great topical oil or diffusing oil for lung ailments and respiratory infections.  It is very high in vitamin C, and could be used internally as a semi-homeopathic remedy for lung or kidney regeneration, or for boosting the immune system.  It contains a high concentration of natural sulphur, which helps joint, muscle, and tendon flexibility and recovery from injury.
This rare  and beautiful oil carries the same light quality demonstrated in the Blue Sage oil, and was produced by the same distiller.  About his conifer oils, he says, " … Artisan created conifer essential oils are gateways to ancestral connections. These trees have fostered humans and animals alike for generations and continue to do so."  My supplier personally finds this oil to have a great effect on the spine, creating space and initiating a deep level of relaxation in the surrounding muscles, opening the flow of energy, and having a lifting and lengthening effect.  It is a superior oil for  supporting energy healing, meditation, and opening the spirit to receive ancestral help and information.  Inhaling this oil brings forth the etheric canopy of peace and protection that one senses in an old growth ponderosa forest.
DISCLAIMER:  None of these are recognized or approved by the FDA.  They are not intended to diagnose, treat, or cure any disease.  They have not been studied or evaluated as to the risks or effectiveness.  Please do your research before you use this or any essential oil, as some of the oils require you to take certain precautions