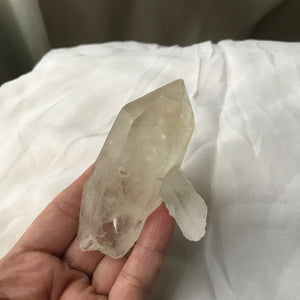 This Crystal comes from the top of a mountain high in the Himalayas. She shimmers with a golden glow and emits the energy of our whale family. If you feel into the crystalis pod, you will sense the baby she carries and you might see the rainbow that appeared through this transformation.
The golden tone came as a result of a grand transformation. She was once quite clear. I know this as she has told me — twice. Once years ago and again just now.
She has a beautiful balanced Isis face and of course, as with any Star Child crystal, she has a beautiful rainbow.
She is Na'a (pronounced nie-ah)
Na'a is approx. 3" x 1-1/4"