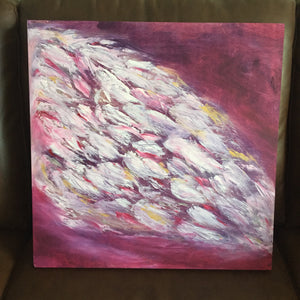 This Angel's wing is a reminder that our celestial guides are always with us. We want evidence of their existence. We want to know that they are near. But they say that if we constantly felt their presence, we would not be able to focus on our life's purpose. We wouldn't be able to stay grounded in our earth's mission. They will occasionally leave us signs..the scent of roses when none are near, a feather that falls from the sky when no birds are overhead, the triple digit numbers that we see everywhere like the 444s, a message from a story that we just needed to hear at that moment, the impossible meetings that change our lives, etc.
Evidence of Angels is a reminder to us that our heavenly guides are always with us even when we don't feel them near.
Evidence of Angels is an original oil painting on 20"x20" wood canvas.

NOTE: Please choose the White Glove Shipping Option for this as it requires special handling. Additional Shipping charges may apply, depending on your location.