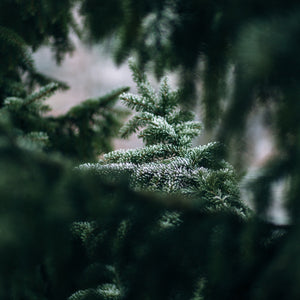 5ml. Douglas Fir Essential Oil (in Miron Glass Bottle when available) 
The trees have been singing so powerfully to me.  They are here to support us in so many ways.  One of those ways is through the liquid of their life essence - through Essential Oils.  Their gift to us goes beyond the beauty of their scent and the richness of their body.  They can raise us up higher than the uppermost tip of the tallest of their collective.  They can offer us the wisdom that has been held in their hearts for eons before we ever came to this world.  They can reveal to us an inner strength we would never have imagined that we possessed.  They can teach us how to stay rooted through the fiercest of storms.  They who are the breath of this planet can show us how to breathe so deeply and so fully, with clarity and ease.  They do all that and more and they do so with grace and harmony and with a pure openness and acceptance.  These are the gifts of the trees.
This beautiful Douglas Fir Essential Oil (Pseudotsuga menziesil) comes from the Mountains of Southern Utah.  It is steam distilled from a small stand of 100+ year old trees, set aside by the Forest Service to be removed for purposes of fire control.  This is an exceedingly rare opportunity to embody the wisdom of these great centurians, and when this oil is gone, it may not ever be available again.  The Douglas fir is a towering conifer that has been used for centuries by Native American peoples.  Energetically, it has an affinity for the feet and legs, and is helpful for healing nerves and opening circulation in the feet and legs.  It relieves stagnant energy flow and helps the spirit and etheric body connect in with the deep planetary energy flows that create grounding and connection to our Earth experience.  This great tree has been used to make a poultice to treat wounds, cuts, burns, and skin ailments.  It was applied to dislocated or broken bones.  And it was used to stop bleeding of bowels, stomach, and excessive menstrual bleeding.  Applied locally, it has been effective with paralysis and relieving the pain of arthritis.  It is a superior additive to massage oil blends for tired and aching muscles, and can help unwind pattern from the muscle fibers and myofascia.  It has also been used to treat coughs, sore throat, influenza, and sinus infections.  It makes a wonderful oil for diffusion;  the ancient wisdom of this plant medicine teacher comes forth through the aroma of the deep forest.  This oil has a spirit that is truly alive and willing to share with all!
DISCLAIMER:  None of these are recognized or approved by the FDA.  They are not intended to diagnose, treat, or cure any disease.  They have not been studied or evaluated as to the risks or effectiveness.  Please do your research before you use this or any essential oil, as some of the oils require you to take certain precautions.