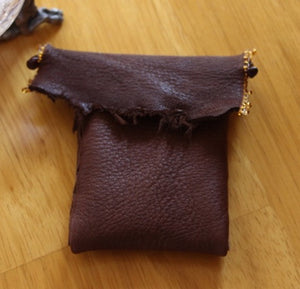 These very special natural deer hide leather pouches were handcrafted and beaded by a special soul who learned the art of beading from a native Cree woman.  She has a very rare talent of creating visually appealing and energetically vibrant spiritual art pieces.  Each of these leather medicine bags is one of a kind and and can be used for healing, meditation, working on specifc areas of your life or beautifying your space.  I am always on the lookout for special pouches in which to keep the stone beings.  I have seen many but none have compared to these special pouches.  They are beautiful in both appearance and presence.  They are made with love and that energy of love is present in each piece.
This deep rich earthy pouch will be a beautiful ground even for the crystals of the highest vibrations.  The most magical part about it is when you open the Mookaite decorated flap and see an elegantly designed regal beaded second flap (for lack of another description) with an amber bead drop. This embellishment was beaded in an unexpected way - to full see it you have to flip the pouch around.  And then when it's upright, and the amber drop pulls down the woven beads - it's unexpectedly attractive.  It reminds me of those crowns that point downwards coming down in a point at the third eye.
This pouch is approx. 3" x 2" (at widest point),  There is approx 2" of space to hold your treasure.