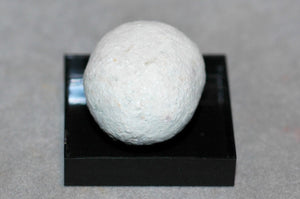 Just as Pearls are formed within the shells of an oyster, these cave pearls form in very much the same way. A Cave Pearl (more scientifically called Speleotherm) form in a pool of water as a bit of foreign matter, like a grain of sand, become coated in Calcite or Aragonite. The movement of dripping water causes the particle to rotate, becoming evenly coated with the mineral. They form in somewhat spherical shapes and can reach up to 15 cm., though most are often smaller than 1cm.

These are not flashy and shiny like the pearls of the sea which are valued as jewels. They are however much rarer to find than the iridescent gems. I have never found them before and I don't know when I will find them again. If you've been searching for these elusive stone beings, like I was ... well here they are. I am so happy to be able to share them with you.

These are Aragonite Cave Pearls and come from Saturnia, Manciano, Tuscany, Italy. I have formed a deep connection with these special stone beings and they have blessed me by sharing their song. They are approx. 1/4" to 1/2" in diameter. I had a small selection of these special stones in recently and they sold out almost as fast as I listed them. I got in touch with my supplier to see if there were any more available. It took some time, but I was able to get a few more - I cleaned out his supply. Once these are gone, I don't expect that I'll be getting any more in.
I will listen for the cave pearl who is singing for you.