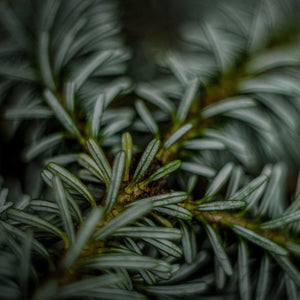 5ml. Black Spruce Essential Oil (in Miron Glass Bottle when available)
The trees have been singing so powerfully to me.  They are here to support us in so many ways.  One of those ways is through the liquid of their life essence - through Essential Oils.  Their gift to us goes beyond the beauty of their scent and the richness of their body.  They can raise us up higher than the uppermost tip of the tallest of their collective.  They can offer us the wisdom that has been held in their hearts for eons before we ever came to this world.  They can reveal to us an inner strength we would never have imagined that we possessed.  They can teach us how to stay rooted through the fiercest of storms.  They who are the breath of this planet can show us how to breathe so deeply and so fully, with clarity and ease.  They do all that and more and they do so with grace and harmony and with a pure openness and acceptance.  These are the gifts of the trees.
This beautiful Black Spruce (Picea Mariana) comes from Canada and is steam distilled from wild tree needles.  It is one of my supplier's favorite oils for application to the feet.  When applied 10 minutes before  a full body massage, rolfing, or chiropractic adjustment, the grounding nature of this oil helps one to relax the body so that the therapies can go deeper and hold longer.  It is a fabulous oil for diffusion, it neutralizes environmental toxicity and helps clear molds and bacteria from the air.
Black spruce carries these medicinal properties:
    Has an affinity for the thyroid glands and adrenals
    Anti-inflammatory
    Circulatory stimulant
    Respiratory tonic, eases breathing and coughing; helps asthma
As most tree oils, it is very grounding and emotionally uplifting, and increases mental receptivity.  Black spruce can help build emotional confidence and courage;  it dissolves emotional blocks and provides the feeling of protection.  It carries a strong hormone balancing property which is helpful for men going through "manopause", as well as women in menopause.
DISCLAIMER:  None of these are recognized or approved by the FDA.  They are not intended to diagnose, treat, or cure any disease.  They have not been studied or evaluated as to the risks or effectiveness.  Please do your research before you use this or any essential oil, as some of the oils require you to take certain precautions.