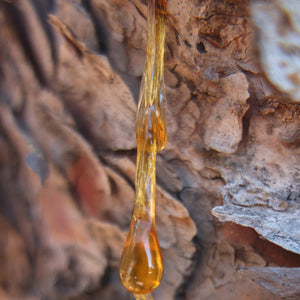 5ml. Balsam Copaiba Essential Oil (in Miron Glass Bottle)
This Balsam Copaiba (Copaiba officianlis and/or Copaiba Langsdorfii) is from Brazil is wild harvested and steam distilled from the resin from one of two Copaiba tree species.
Copaiba is an ancient medicinal oil from the Amazon.  It is one of the several species referred to as "Copal", whose dried resin is used as an incense.  The oil can be distilled from the dried resin, or directly from fluid resin that is tapped from the tree much like maple syrup (our variety is from the fresh fluid resin).
Copaiba is traditionally used in the Amazon of Peru and Brazil, for treating many types of pain and inflammation.  It is used externally for skin conditions; and internally for sore throats, by combining a few drops with a spoonful of honey.
Other traditional uses include treatment of chronic cystitis, bronchitis, diarrhea, hemorrhoids, and wound healing.  It makes a beautiful chest rub for relieving coughs and congestion, due to colds.
Balsam Copaiba is a great stress reliever, and is quite effective for this when taken through inhalation.  It's can be very grounding, helping us to slow down and relax, which can help transform emotional issues connected with heart palpitations and heart disorders.  It can be applied directly to the chest, over the heart area for this purpose.
Because of its moderate cost, Balsam Copaiba has been a popular player in the perfume industry.  It offers an interesting base note and fixative quality that blends very well with  many diverse oils.  It carries a mild balsamic, sweet, woody bouquet with a slight smokey backnote.   It is a great modifier, allowing soft transitions from one phase to another (top note, middle note, and base note) of perfumes.
DISCLAIMER:  None of these are recognized or approved by the FDA.  They are not intended to diagnose, treat, or cure any disease.  They have not been studied or evaluated as to the risks or effectiveness.  Please do your research before you use this or any essential oil, as some of the oils require you to take certain precautions.