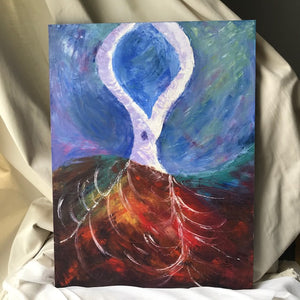 Autumn is a season that demands to be seen. It is colourful and brilliant and vivid and striking. To think of Autumn is to imagine colour and transformation. This piece asks you to turn what you know upside down and inside out. It invites you to imagine the vividness of life beneath the surface, patiently waiting to be seen. But just because it is not yet born, does not mean it is any less dazzling.
If you are still and listening with your heart, you can feel the autumn awaiting. In this image is the unseen energy pattern of invisible vividness. Through the art you can connect to the part of you that has forgotten how to see the colour that is beneath the surface and connect to this vibrant vision. Then you will be able to see the ... autumn awaiting
Autumn Awaiting is an original oil painting on 24"x18" wood canvas.

NOTE: Please choose the White Glove Shipping Option for this as it requires special handling. Additional Shipping charges may apply, depending on your location.