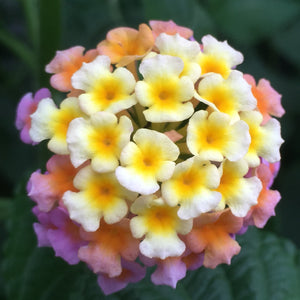 5ml. Lantana Essential Oil in Miron Violet Glass Bottle
LIMITED SUPPLY
This Lantana (Lantana camara) essentail oil from Madagascar is steam distilled from certified organic flowers.
Lantana is a fairly new addition to the aromatherapy market.  It carries a rich bouquet of herbaceous, fruity, and resinous balsam notes.  It is used in making chypre type, herbal, and amber based perfumes.  Lantana contains ketones that can be toxic used for long periods of time, so it is best used as a short term medicinal.  It carries wonderful respiratory effects, and can relax and deepen breathing while also acting as an expectorant (loosening phlegm).  It is best inhaled for this purpose.  A great wound healer, lantana can help stop bleeding, and carries anti bacterial and anti-microbial properties, as well as speeding the healing of torn tissues.  Used in massage and energy healing, Lantana helps dissolve solidified emotional energy and allow it to drain out the feet.  This can be helpful for treating tumors, cysts, hardened tissues, etc. with an emotional cause.
Energetically, I have found Lantana to be very helpful for a certain kind of disconnect between the soul and personality levels of our being.  When the personality feels like there is no other reality, or seems disconnected from the divine purpose of life, inhaling lantana or applying it to the solar plexus can heal the disconnect very quickly.
DISCLAIMER:  None of these are recognized or approved by the FDA.  They are not intended to diagnose, treat, or cure any disease.  They have not been studied or evaluated as to the risks or effectiveness.  Please do your research before you use this or any essential oil, as some of the oils require you to take certain precautions.