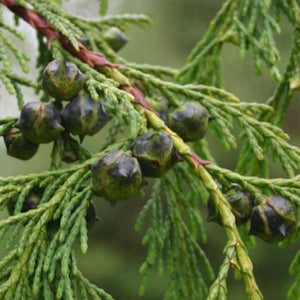 5ml. Nootka Essential Oil (in Miron Glass Bottle when available)
The trees have been singing so powerfully to me.  They are here to support us in so many ways.  One of those ways is through the liquid of their life essence - through Essential Oils.  Their gift to us goes beyond the beauty of their scent and the richness of their body.  They can raise us up higher than the uppermost tip of the tallest of their collective.  They can offer us the wisdom that has been held in their hearts for eons before we ever came to this world.  They can reveal to us an inner strength we would never have imagined that we possessed.  They can teach us how to stay rooted through the fiercest of storms.  They who are the breath of this planet can show us how to breathe so deeply and so fully, with clarity and ease.  They do all that and more and they do so with grace and harmony and with a pure openness and acceptance.  These are the gifts of the trees.
This beautiful Nootka (Cupressus nootkatensis) comes from Canada and is steam distilled from needles.  Native peoples along the west coast of British Columbia, once known as the Nootka tribe,  have co-created with Nootka since the beginning of time.  It has been used to make everything from bowls to canoe paddles, to bows.  The bark is woven into hats, baskets, and clothing.  Nootka is considered a sacred provider for human beings, and is used in many ceremonies.
Cedar baths are used as a restorative.  This is an especially pleasant treatment for colds and flu.  It is especially cleansing, and brings a sense of clearing out turmoil and lessening the resistance to change.  It is a fine aromatic for those in high stress situations; students, athletes, soldiers, etc.  And it is especially helpful for smokers, to open and clear breathing passages.  Nootka offers a superior herbal treatment for bone injuries, and can be applied before and after surgeries to support the body's healing process.  It is a helpful cardio-tonic, and is also used to support digestive health.  It is also an excellent treatment for dandruff, and is soothing to the skin.  Its anti-bacterial properties are helpful for many forms of skin infection and skin conditions.  The oil can be applied to relieve extreme pain in the muscles; and can be used at up to a 50% dilution with carrier oil when used locally for this purpose.
Because this oil is very strong and carries ketones, it is not advisable to take it internally unless diluted to a homeopathic level.
DISCLAIMER:  None of these are recognized or approved by the FDA.  They are not intended to diagnose, treat, or cure any disease.  They have not been studied or evaluated as to the risks or effectiveness.  Please do your research before you use this or any essential oil, as some of the oils require you to take certain precautions.