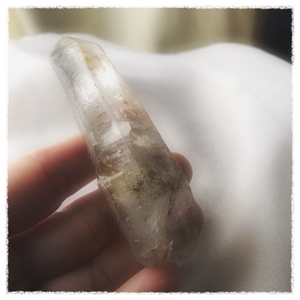 Personal Intensive Journey to Crystalize your Power
A 3 month personally guided Journey guiding you in shifting from powerlessness into strength by crystalizing your power.
A Soul Journey
•Soul Journey Stone
I will listen for your soul journey stone guide and send it to you with a personal message from your crystal.
•Star Song
We will co-create a Star Song with your Soul Journey Stone so that you can connect with your crystal and it's healing gift in a very deep, energetic way.
•Crystal Blessing
We will do a Crystal Blessing (guided meditation) with your Soul Journey Stone for another level of deep connection to your crystal and its healing gift.
•One on One Support
We will meet over zoom 3 times (1x month) for support on your Journey
•Follow up emails
We will follow up by email 1x month to address any questions that come up and to support your journey.
How we meet
We meet through virtual one on one online zoom meetings in a gentle way where you won't feel judged or pressured. You can choose to have camera on or off. My clients often tell me that they feel comfortable and comforted through our sessions.
Soul Messages
As an empath, mystic and soul whisperer, I have the ability to receive messages from the Universe. I often get messages for my clients and when I do, I share those freely as a gift.
3 MONTHS:
We will work together once a month for 3 consecutive months.
Shifting into a new lifestyle takes time. The changes you will be guided to make to your lifestyle will be simple and easy to do. However, it does take time for you to integrate the changes into your life. It will help you, especially when you are beginning, to have consistent support through the initial stages.
3 Week Acceleration
If you are in need of an accelerated process, we can work through Crystalizing your Power over the course of 3 weeks, once your Soul Journey Stone has been received.