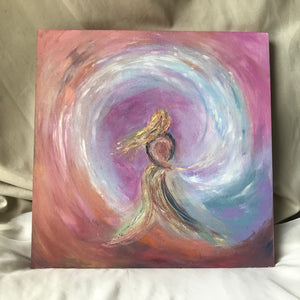 This piece holds the energy of playing with light. It inspires a recognition of the light that is in you - THAT IS YOU. It carries unseen instruction to take that light outside yourself and ... play with it - heal with it - create with it.
In this image is the unseen energy pattern of ...twirling light
Twirling Light is an original oil painting on 12"x12" wood canvas.

NOTE: Please choose the White Glove Shipping Option for this as it requires special handling. Additional Shipping charges may apply, depending on your location.