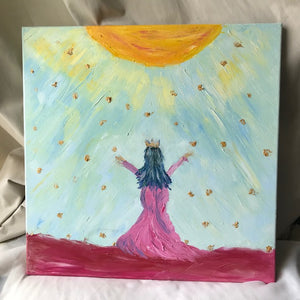 This piece holds the energy of manifesting riches in your life with golden light. It is not about becoming rich through the material things in your life, but about shifting you in the frequency of wealth itself. It asks you to move out of the state of lack where you are constantly running after abundance and into a golden reign, where abundance rains down on you.
Reign of Gold is an original oil painting on 18"x18" wood canvas.

NOTE: Please choose the White Glove Shipping Option for this as it requires special handling. Additional Shipping charges may apply, depending on your location.