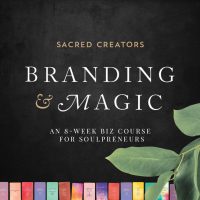 If you've been dreaming of finding clarity surrounding your own special flavour of brand magic, I have a personal recommendation to share with you. It will help you successfully cast your gifts out into the world.
Brand-catcher and dream-builder Chris-Anne Donnelly (creator of the Sacred Creators Oracle, Light Seers Tarot, The Muse Tarot, and more!) has created a truly magical program that gets my whole-hearted stamp of approval! I was a student in this unique program that helped me build my brand using soulful strategy and intuition.
Woo-curious
Created for woo-curious business leaders and intuitive warriors (and anyone in between), the Sacred Creators Branding and Magic course is for those who really want to up the ante – for those who want to bring both strategy and intuition into their business and want to walk powerfully in their own skin.
It's for movers and shakers who need a little extra magic sauce in their strategy, and a little extra branding flair in their abundance sessions. And they are looking for an understanding of who they are in their brand to take them there. This class is 8 weeks long, and includes group intention settings, live calls and lots of strategic power for you to dig into at home.
This is for you if:
You know you have a powerful gift to share with the world

You are ready for this success, and to meet your future clients and kindreds

You want to show up, fully and authentic and in your own truth

Words like spiritual, mindset and essence make you smile

You need some brand magic to help take you there

You are ready to feel inspired and unleashed, with an personal brand guide to drive your success
Expect strategic modules on brand voice, your mission, brand values, color and shape psychology. And then you'll dive into intuitive modules on manifesting, alignment, the flow of money, your brand essence, and some honest-to-goodness magic!
BRANDING & MAGIC begins 2/22/22!
Learn more about Branding and Magic here  Your spirit and business will thank you.
An Amazing Experience
Hear what students had to say about their experience in Branding and Magic.
"I loved the mix of spiritual connections and insights coupled together with actionable branding strategies. I was able to really nail down my branding look, feel, and voice while remaining authentic to my unique brand.  " – Jessica Butcher
"I loved the private groups were you can connect with other like minded people.  It taught me to be confident in my choices when it comes to sharing my spirituality and running my own business." – Cindy Aubert
"This is a course about self-discovery, expression, and how to use that to promote your authentic self in your business. This is a really unique course and I'm so glad I made the investment for myself and my business." – Denise Cicuto
"I loved the community support and the high level of professionalism and integrity. It felt so wonderful to focus on creating your own personalised brand in so many creative ways."- Kim Lansdowne-Walker 
"This course helped me see exactly what I have to offer the world because, as this course reminded me, my brand is about what I'm bringing to the table. The exercises had great depth and I love the way they helped me connect with my deepest truths. It is the most beautiful blend of traditional marketing genius and magic." – Naomi
I wish you all the best and do hope that you treat yourself and your business to this transformative branding course!