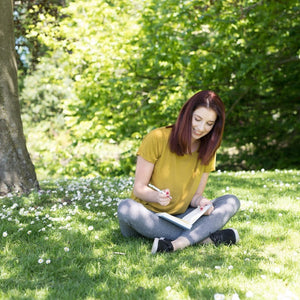 Anne-Kathrin Walter of HiSensitives
"Once you celebrate sensitivity and embrace every part of it, you'll thrive!"
Sensitivity is a strength. Along with sensitivity comes intuition, creativity, imagination, empathy and nurture. Some of the most kind, warm and welcoming people I have met, are sensitive and empathic. They are what makes the world a more compassionate place.
While sensitivity offers wonderful gifts, it is sadly still perceived as a weakness in Western culture. As a result, I put on a mask to hide away my sensitivity for most of my life. I thought that I had to undermine it in order to succeed in my career. My true, sensitive self did not feel good enough. Yet, I did not become more successful and happy. How come?
I lost connection with all the gifts sensitivity offers! Once I denied my sensitivity, I also pushed away the ability to be creative, empathic, caring, intuitive and imaginative. That was when I realized that my sensitivity is my biggest strength and I decided to embrace it.
In order to reconnect with my sensitive nature after years of neglecting it, crystals, moon rituals, meditation, mindfulness and grounding became some of my daily habits. They helped me to rediscover my sensitivity and all the characteristics of it. Moreover, they helped me to discover my true purpose; to create more awareness and acceptance in relation to (high) sensitivity by connecting (highly) sensitive people worldwide.
Together with my partner, I initiated the brand HiSensitives. On our blog and social media, we inform about sensitivity and connect (highly) sensitive people with each other. We want to show the world that sensitivity is an amazing trait that should be celebrated! Together, we'll create a close community of (highly) sensitive people that empowers and inspires each other to embrace the many wonderful gifts that sensitivity has to offer! And maybe, one day, people won't see sensitivity as a weakness anymore. Who knows?
Will you join us in this movement?
HiSensitives
https://www.facebook.com/hisensitives/
https://www.instagram.com/hisensitives/
https://pinterest.com/Hisensitives/
Anne-Kathrin Walter
https://www.instagram.com/i.am.anne.kathrin/