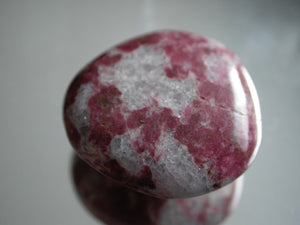 These incredible Thulite stones come from Norway and are beautifully and lovingly hand polished.  They have a lovely feel in the hand … they remind me very much of chicklets!  I know it is not a typical analogy, but there is nothing "typical" of this stone being.   They have an incredible colour.  Quite unique actually.  I can't think of another stone that I've experienced that has this colour.  Like Ruby and Rhodochrosite, the color seems to deepen with touch and even just in our presence.
This stone has been singing so vibrantly and so strongly … guiding me to share them with you and listen to their song …
We are the mix of the most earthly colour of blood red and the heavenly colour of violet which have come together to offer grounded SUPPORT.
[what I heard at this point was the song "You raise me up" by Josh Groban.  I just kept hearing the chorus part over and over again (but with the word LIFT instead of raise … YOU LIFT ME UP]
 "We lift you up and hold you high … 

we hold you in the heavens, 

but you are grounded in earthly strength."

 

With your feet firmly planted-rooted to the earth, we show you the Angelic realm.
What I felt was a build up of energies in my body … almost as if I had too much "stuff" … a build up of "clutter" that was making a lot of noise, taking up a lot of space, and causing confusion.  This build up intensified for a moment.  It was uncomfortable to the point of me wanting to STOP!  Then in a burst of release, it was cleared.  It was similar to an orgasmic experience, except that after it is completed you get to hold that energy of release.
I felt lighter – clearer – freer!
This stone is so very vibrant in its energy.  It is like a breath of REAL, FRESH country air after having been in the smog of a city … or like a cool drink of sparkling spring water after having been in the thick heavy air of a sunny tropical day.  If I had to choose one word to describe how it felt for me, it would be SUPPORT!  The kind of support that comes from love … without judgment … without words … a being there with us and for us … ANGELIC support.
This was my experience.  I don't suggest that you will have the same experience … just sharing mine.
© Song of Stones 2008