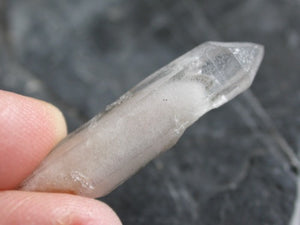 Two crystals were chosen today which held a message of alignment within them.  I didn't realize at the time that the message was so appropriate in that there would be a Lunar Eclipse that night.  Not only would the Sun/Moon/Earth line up, but also in this alignment would be Regulus and Saturn.
Interesting that I began to wear my Cat's Eye stone again today … a crystal personifying alignment.
Both crystals are Brazilian Lasers.  The first is a Twin.  This in and of itself is already about alignment (vertical).  It is about the connection/alignment between 2 beings, which is, I assume, why so many find these crystals helpful in matters of relationship – alignment at its deepest.
If we look at what alignment is:  an arrangement in a straight line or relative positions.  To take it deeper, it is the lining up, the moving into vibrational harmony both visually and energetically.  Perhaps the visual is what makes it so powerful.  Because really, I believe, that everything is always in alignment!
This crystal has 2 phantoms.  Phantoms are the ghostly view of the crystal's formation … another form of alignment.  There are 2 phantoms in this crystal.  Aligned at the top of one of the phantoms is an inner crystal which has grown perpendicular to the crystal it dwells within.
They are going to teach me.  The V that is formed in our joining is a space we share.  Within that space is a secret.  It appears small, smaller than the rest of us, but it is vast.  The universe is contained in this space.  It is oneness, and in oneness is All things and this is the nature of alignment.  When it is seen, it is powerful because we believe that which we can see with our eyes more easily than that which is unseen.

But all is always in alignment and when we come to SEE this with our hearts – our soul, that is even more POWERFUL.

This is also the secret of creation.  When a mother is carrying a child, we do not see the child, especially early on in the pregnancy.  The further along she is the more visible it becomes and the more real it is to us.  But when is it true?  Is it truer when we finally see it and believe it?  Is it true before we even know about it?  Is it true at conception, before even mother and father know it is born.  Or has it ALWAYS been true … since the first thought of our creation, before the first word was spoken; before anything was physically manifest.

WHEN IS IT TRUE … WHEN IS IT REAL?
---
The next crystal moves to illustrate the real within the unseen; showing us what is there even though it might not be seen … the alignment of the unseen worlds.  For only when the crystal is aligned just so, can we begin to see its secrets revealed … it's wonders appear.
 There is a vortex, a doorway here.  (seeing image of a large boulder which has become larger through rolling and picking up more and more debris).  It's the movement which creates/opens doorways, which when we come into alignment with can be seen.  They are always there.   We just don't see them.

It is the size of the ball that determines which doorway will open – meaning the strength of the force – build up of energy.

Really we can see what we want, when we want – because the doors open when we are in alignment and we are always in alignment.

Geometric form tumbled by the atmosphere – meaning the shape is affected by time and space – meaning how you see/perceive something depends on your perspective/alignment.

Shifting to the perspective of holding space being different than owning space – meaning we don't own "anything" really, including the things we grab onto so tightly – our material possessions, including or physical bodies.  They too are material possessions, borrowed during our stay in the physical reality/existence.

Together in harmony are we always.  The seen and the unseen.  The baby, the fetus, the "being" at the moment of conception and the original thought that brought it and everything around it into being.  And so this is the reason that we are each the center of the Universe, for in the original thought of our conception, was created ALL that which surrounds and is part of our existence …. … including me, in your hand, at this moment!

We are "really" ONE!

And this is true for each single living being.  How's that for orchestration and (co-ordination – calibration) choreography!

Now that truly is the greatest show on earth – or for that matter – in the Universe!
NOTE:   The next day I got an email message containing a video clip of an instrument built with recycled materials and which play a beautiful melody with just dropping of a few balls.  It's a beautiful illustration of this incredible message of alignment and creation … here's the text from the message (note some of the exact words used in the message delivered from the crystals):
This incredible machine was built as a collaborative effort between the Robert M. Trammell Music Conservatory and the Sharon Wick School of Engineering at the University of Iowa . Amazingly, 97% of the machines components came from John Deere Industries and Irrigation Equipment of Bancroft, Iowa, yes farm equipment!  It took the team a combined 13,029 hours of set-up, alignment, calibration, and tuning before filming this video but as you can see  it was WELL worth the effort. It is now on display in the Matthew Gerhard Alumni Hall at the University  and is already slated to be donated to the Smithsonian.
© Song of Stones 2008